Provines Painting - Professional Park City Painters
Over two decades experience means Park City painting you can trust.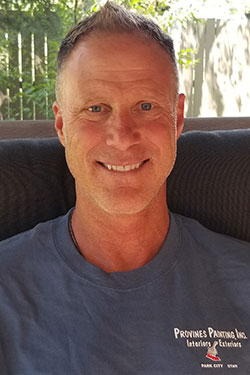 Brian Provines, owner of Provines Painting, has been serving clients in the Park City area with custom interior and exterior house painting and staining services for almost 20 years. Brian began his painting career in the Bay Area with his cousin while attending college. After spending several years learning the painting trade Brian moved to Park City to be closer to family and indulge his passion for skiing. Provines Painting was born in 2000.
Almost two decades of painting experience in Park City have placed Brian in a perfect position to conquer the challenges specific to painting in the high desert. In Park City the altitude averages over 7000 feet and this increases UV exposure putting more stress on exterior surfaces and causing them to deteriorate much more quickly. In addition, the low humidity, harsh winters, and temperature swings make correct prep work, choosing the right quality products and meticulous application extremely important. Appropriate prep, product, and application will not only make your house look better but will dramatically improve the longevity of your paint or stain project and help retain color and prevent fading.  With Brian's guidance his long-term crews of local residents are especially experienced in addressing the extreme conditions found here. Brian takes great pride in the services his company provides the community and enjoys seeing current and past work as he drives around town. For Provines Painting a paint job is more than just a one-time event. We enjoy establishing lasting relationships with all of our clients to ensure we are the company to call the next time they need any painting services.
When not working Brian tries to indulge his passions for both skiing and surfing as often as possible. Summer evenings often find him out running the trails in and around Park City with his black lab Rubin. He lives in the Silver Springs neighborhood with his wife Erica and son Mitchell, who is attending the University of Utah.