Choosing the Best Paint for Different Surfaces
A new, fresh coat of paint can easily transform anything into something new and exciting. Check out these tips for the best paints and primers for different materials.

Most high-quality paints are applicable for most home painting projects if they are used in conjunction with the correct primer. It is also important to use paints that are designed for the specific surface that is going to be painted.

Floor Paints
These paints are usually applied to concrete or floorboards. They are usually solvent-based and are very rugged, durable paints. You can find them in either sheen or gloss finishes. When painting concrete floors, make sure that the concrete is fully cured before painting. You may want to check the curing level with a moisture meter.

Kitchen or Bathroom Paints
These types of paints have special additives that resist moisture and fungal growth. If you do have excessive condensation in these rooms, you may want to improve ventilation for additional moisture reduction.

Metal Paints
These types of paints are available in high-gloss, smooth, and textured finishes. Most of these types of paints can be used externally or internally. Some metal paints can be applied over rust spots for added convenience. With these metal paints, paint thinner is required to clean your brushes, rather than the usual mineral spirits.



Getting the Best Results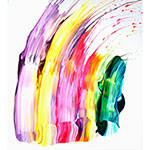 No matter what you are painting, these tips can help you get the best finish.

Base Coats/Primers. The correct base coats are necessary for your project to look as good as possible. For interiors, a combination primer coat is a great option. There are water-based and oil-based primers available depending on the material you are painting.

First Coat. A specially formulated paint first coat paint should be applied prior to the finish coat. These are used to build up opacity to create a fully finished, even look to the finish coat.

Finish Coats. These are the "decorative" paints that provide the actually color and look. These finish coats come in flat, eggshell, gloss and satin finishes. Each of these types of finish coats has different finishes for different uses:
Flat – Versatile and used mainly on walls and ceilings
Eggshell – commonly used on inside wood surfaces
Gloss and Satin – Used mainly on metal and wooden surfaces.
If you have more questions, you can always contact us to ensure you get the best possible results.