How Lighting Can Affect Your Paint Choice
Would you consider your home to be dull or bright? Are there numerous windows and entryways, or are these limited?
When repainting your home, it's important to consider lighting, because ultimately, the end-result will affect your mood, design and budget. Here are some tips:

Use a Compass
Does the room in question face north, south, east or west? This recorded angle will influence lighting at different times and seasons.

Don't believe us?
Complete a color and light test with a piece of fabric. Divide in two, and place each in two separate rooms.

Example. Orange will appear bright at lights coming in from the West, while a northern facing room will depict warm and dark orange hues. Experiment for yourself, and you'll see just why lighting is an important element in paint selections.
Why Lighting Affects Hues
There's science behind lighting and colors. Typically, there are two subdivisions of natural lights in the home, including incandescent and halogen lighting. These lights will either offset or enhance red or bluish tones.

Striking the Right Balance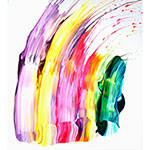 Pick paint colors based on the following recommendations:

For North Facing Rooms – gentle and warm lights will emanate from windows and doorways. To balance the gentle nature of northern facing lights, pick bright and bold colors. White isn't usually a top pick in these zones, since bluish hues mask the natural shade.

For South Facing Rooms – pick cool blues to counteract the bright nature of sunlight. Grays or tinted whites are also recommended. To finish, top with a satin or matte texture.

For East and West Facing Rooms, natural lighting will also be warm, and therefore combo colors of bluish-gray, for instance, are endorsed. Painters should also pay attention to the artificial lighting of each room or make adjustments in this respect.

Homeowners will want to pay attention to the above pointers since a bad paint job can end up costing you big time. This is applicable whether you're the one painting or a professional is hired – considering the time and the cost of supplies.

Good to Know
If you've no clue what's north, south, east or west, clear up the confusion with an expert local painter, who will be familiar with the best paint picks. He will keep in mind directions, climates and seasons – for the most professional outcome. An expert can furthermore make selections based on durability, functionality, and other important factors.