Stain Your Fence and Save Money
How often do you maintain your fence? If you're like most people, it's a household chore that often gets put aside. If it's still standing why bother?  When fences are not stained or painted within a few years they begin to chip, turn gray, and form mold and mildew. This presents a problem. Neglected fences become an eyesore and help contribute to the loss of structural integrity in the fence. Eventually, fences become aged to a point where property-owners will completely scrap the fence and replace it with a new one. This can be labor-intensive and end up costing thousands of dollars. Contrary to common belief, old and unpleasant fences can almost always be restored. Through the use of a power washer and wood stain, an old fence can look just like a new fence for a fraction of the cost.
What are the Steps to Renewing an Old Fence?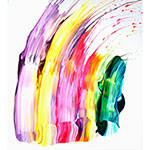 Clean the Wood – After years of neglect, the out layer of the wood begins to rot and fade in color. This aging process is primarily contributed to the wood's sun and water exposure. If you are to remove the outer-most layer of the wood, you will be able to observe a healthy, more vibrant layer that the fence used to show when it was first installed. The best way to remove this aged layer of the wood cell is to spray it with a power washer that uses powerful 1500-2000 psi concentrations of water.


Perform Repair Work – Once the new layer of wood is exposed, go through each component and make sure the fence is structurally sound. Many repairs can be made by simply administering wood glue or by replacing a board. Once the stain is added to the wood there will be no distinct difference between what is old and what is new, so do not worry about replacing components.


Stain the Fence – Stain comes in variety of options that suit different styles. One of the most common is semitransparent oil stains. This type of stain will seal the newly exposed layer of wood, while still allowing the grain of the wood to be visible. Once you have your stain, it is important to ensure that the fence is completely dried before application. While paint rollers can be used for stain application, the most efficient application method is with an airless spray gun. By going through these steps, an old fence with what seemed like no future can be transformed into a fence that competes with ones that were just installed. It is truly amazing how much a new finish can do to old wood. To ensure that the fence maintains this look, most finishes require 1-3 year upkeep.
If you are looking to save up to 90% of the costs in replacing an old fence, then power washing and staining is the way to go. While this makes a great 2-3 day DIY project, Provines Painting is a trusted company of the Park City area that has all the equipment and experience to make sure your old fence becomes the envy of the neighborhood. For fence maintenance or any type of exterior or interior painting services, Provines Painting is here to help.